For additional information,
please contact:
Mercy Surgical Dressing Group, Inc.
Contact: Joseph Haskey
phone: 1-800-637-2950 x289
fax: 1-888-282-0939
e-mail: jhaskey@mercysurgical.com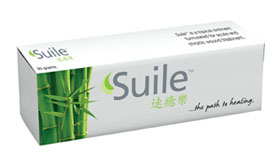 Cleanse the wound with saline and dry.
Apply Suile™ about the thickness of a nickel.
For most wounds a cover dressing is not required.
If a cover dressing is desired use secondary dressing of choice.
Apply daily or BID depending on wound exudates
- Dry wounds require twice daily application.
- Suile™ can be applied daily on moist wounds.
If any of the following conditions arise, discontinue the use of Suile™:
Active infection
Skin irritation (redness, infl ammation)
Allergic reaction
Increasing pain
Blistering of the skin
Suile™ should not be used in patients with an active infection or sensitivity to any of the ingredients.