For additional information,
please contact:
Mercy Surgical Dressing Group, Inc.
Contact: Joseph Haskey
phone: 1-800-637-2950 x289
fax: 1-888-282-0939
e-mail: jhaskey@mercysurgical.com



Bismuth Subgallate/Borneal (Suile™) is Superior to Bacitracin in the Human Forearm Biopsy Model for Acute Wound Healing
Background
The human forearm biopsy model can evaluate the effect of novel agents on acute wounds. Bismuth Subgallate/Borneol (Suile™) is a new product with FDA permission for the treatment
of partial thickness wounds.
Methods
In a randomized, investigator-blinded study, 20 normal healthy volunteers underwent two 6mm
full-thickness skin punch biopsies on the flexor
surface of each forearm (two wounds/subject).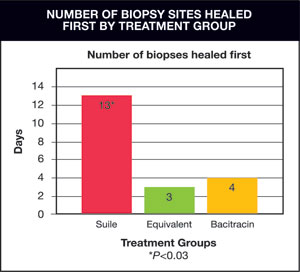 Biopsies were randomly assigned to control (bacitracin) or to test article (Suile™). Wounds were examined, measured by digital planimetry, and photographed daily until healed. Adverse events and pain levels were monitored. Time-tocomplete closure was determined.
Results
Direct quantitative and qualitative comparisons of wound healing were observed. Although this study was powered to demonstrate equivalence, the Suile™ group trended strongly towards more rapid healing (log-rank analysis). Individual subject arm analysis examined which treatment healed fi rst. Suile™ treated biopsies healed more rapidly (p=0.03, Pearson's chi-square test).
Conclusion
Although this study was powered to demonstrate equivalence, there is convincing evidence that Suile™ is superior to Bacitracin in this model. Based on these results, future studies in full thickness wounds with Suile™ are warranted. Also to note, the biopsy model has several advantages: direct comparison within subjects, rapid study completion, good patient compliance, and experience with products prior to embarking on larger clinical trials in wounds.
1Advances in Skin & Wound Care. 20(9):485-492, September 2007.
Additional Clinical Trial Papers
The Efficacy of Bismuth Subgallate/Borneol (Suile) in the Treatment of Partial Thickness Wounds in the Skilled Nursing Setting
Thomas E. Serena MD FACS, Jen Agosti RN, Mary Shannon CRNP, CWOCN
Penn North Centers for Advanced Wound Care™ and NewBridge Medical Research™
Warren Pennsylvania
Gannon University, Erie Pennsylvania


Bismuth Subgallate/Borneol (Suile™) Results in Less Scarring than A Topical Antimicrobial: Follow up analysis of a randomized clinical trial
Thomas E. Serena MD FACS, Houston Cutshaw PA-S, Laurie Jonda PA-S, Katie Flower PA-S,
Jackie Baloga PA-S, Greg Hartle PA-S, Rachel Gerber PA-S, Jesse Steffl PA-S , Matthew Nedresky PA-S
Penn North Centers for Advanced Wound Care™ and NewBridge Medical Research™
Warren Pennsylvania
Gannon University, Erie Pennsylvania